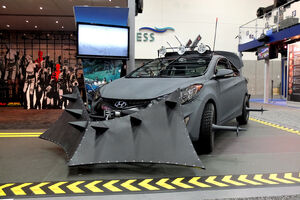 2013 Hyundai Elantra Coupe Zombie Survival Edition is a vehicle specifically designed for the zombie apocalypse. It was designed by Robert Kirkman and built by Gary Castillo. The car was built to celebrate the 100th Issue of Image Comics' The Walking Dead and was revealed at the 2012 San Diego Comic-Con on July 11, 2012.
Features
Exterior
Staked Zombie Plow
Armored windows
Armored headlights and taillights
Smoked headlights and taillights
Reinforced body panels
Rear bash bar
Wheel spikes
Adjustable front light bar
Escape Hatch
Winch
All-Terrain Tires
Forged Wheels
Upgraded lifted Suspension
Interior
Custom riveted sheet metal rear interior panels
Food & Supply storage compartments
6×8 Net Cannon with rear-view camera
Co-pilot controlled switch box with gauges
Master Kill Switch
Net Cannon Control
Lighting Control
Tilt front flood lights
Pan rear flood lights
Weapons: Katana Sword, Baseball Bat, Machete
GPS
CB Radio
First Aid Kit
Nitrous System (120 hp/shot)
Adjustable rear trunk flood lights
Custom front seats with embroidery
Gallery
Videos
See also
Community content is available under
CC-BY-SA
unless otherwise noted.