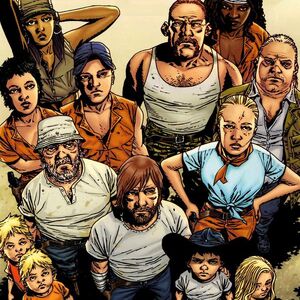 Welcome to The Walking Dead Wiki, CDandme!
There's a lot to do around here, so we hope you'll stay with us and make many more improvements.
Recent changes is a great first stop, because you can see what pages other people have been editing, and where you can help.
Questions? You can ask on the "discussion" page associated with each article, or post a message on my talk page!
Need more help? The Community Portal has an outline of the site and links to pages to help you learn how to edit.
Please sign in every time you edit, so that we can recognize you as an established user.
We're really happy to have you here, and look forward to working with you!
Mistertrouble189 (talk) 00:01, February 20, 2017 (UTC)
RE: Mikey
Edit
Hi, we don't know if Mikey's dead for sure, but it seems he will not be returning to the show anytime soon. His actor doesn't even know if he's coming back either, and it's best just to list him as dead despite so many attacks happening on Alexandria. 
RE: Zuke
Edit
There's no reason to ban him, the edits he's making are fine.
~ SilentGlaive Knowledge is power 22:30, April 13, 2017 (UTC)
All right. Just making sure the edit war doesn't continue. Thx for responding.
~CDandme
An actual explanation for the undo edits
Edit
Now, let me fully explain this.
Before I start off, I want to make 1 thing clear; the logic from the comic DOES adapt to the television show. There's no reason for it to not apply to the show.
Now, onto the good stuff; in the comics, you do see some characters having "Member of the Militia" in their occupations. Why is this, well, because those characters fought in the Whisperer War. Why does this only apply to people who fought in the Whisperer War? That's because they choose to fight the war. In the war during the Saviors however, everyone was pretty much forced to fight or get highly involved, so that's why you don't see people like Nicholas having the "Member of the Militia" in their occupation.
If you still somehow disagree, let me know. ZukeTheDuke (talk) 21:03, April 14, 2017 (UTC)
Tara Chambler (TV Series)
Edit
Tara Chalmers and Tara Chambler are both 2 different Characters. Mitt Campbell (talk) 17:50, April 23, 2017 (UTC)
Tara in the show is still based on Tara Chalmers in the novels. Think about it. In the comics, Bob Stookey isn't African-American. Where as in the TV show, he is. He's the same character, but also in a way, he's different. They have the same personallity. Yes, Tara's last name on the show is different in the show then in the novels, but so is Jesus's as well. At the end of the day, Tara is still based on the Tara in the novels. CDandme (talk) 20:13, April 23, 2017 (UTC)CDandme
Why are you talking to me? I didn't change the information everyone else seemed to agree on.
--Bmax999(talk) 22:30, May 21, 2017 (UTC)
Javier leading the New Frontier
Edit
I apologize as I meant to explain why I undid your edit when I was actually doing it so I'll explain here instead.
Saying you're GOING to do something is still not a garantee that you successfully do it, for instance if the Govenor said he was going to become leader of the Prison group and kill Rick then we wouldn't automatically list his Occupation as leader of the Prison group or list Rick as dead before he actually did anything to put those words into action. Mr Rinn (talk) 22:35, June 2, 2017 (UTC)
When a season/DLC finishes all characters become unknown like what happened with Edith (if went with Kenny) or with Hershel or Gleen
But that's different, because when you leave Hershel's barn, and when Glenn leaves the group for Atlanta, you never see them again, so of course they would be unknown. Also, there would be no point in turning Edith unknown for the end of season 2 because you still know that she would be alive anyway because you literally just saw her.
CDandme (talk) 12:38, June 4, 2017 (UTC)
Lilly must be alive then we just stop sawing her on season 1, the same goes for Andre. When you don't see a character in a long time he is Unknown. If you let Kenny kill Jane and then abandon him he becomes unknown because you follow Clem's story and you don't see him again.
I know how the status Unknown works, but i'm not saying that characters like Lilly should be considered alive, i'm just saying we know Michonne and the others are alive, because some of those characters are in the comics, and for the ones in the game only, you are with them last in the game, so they should still be alive. Also, please sign your posts.
CDandme (talk) 12:50, June 4, 2017 (UTC)CDandme
If I could just jump in on this, Michonne characters should be considered alive, it's similar to right now. Clementine's status is alive, even though she could easily die off-screen during the events between Season 3 and Season 4. Also, both stories are completley different and since we haven't picked up back on Michonne's (probably never will) It's safe to say that they are all alive. Jack7809 (talk) 13:37, June 4, 2017 (UTC)
Saying thanks
Edit
Thank you very much for your help with the sock puppet Kendall Jr. By reverting a ton of his edits and of cource contacting admins. I've been in contact with admin devinthe66. He knows all about this issue. If the admin Camthewoot doesn't answer soon. Please contact admin devinthe66. I'm in shock on how many accounts this user has. It's just unbelievable. (Natalie j (talk) 23:48, December 7, 2017 (UTC))
About Labeling  Daniel Salazar!
Edit
@CDandme Can you please tell me why are you saying stop Labeling?
Edit
Daniel Salazar is about appearing in Season 4 So why are you saying stop!
Edit
Also Lee and Walker will appearing in Season 4 too and why are you saying can someone please look Lee's and Walker's Pages?
Edit
So you needs to stop telling people what to do by not Labeling stuff on page!
Edit
Let me know if he continues to add unconfirmed reports for FTWD Season 4 and I'll take further action. Thanks! —Mistertrouble189 (talk) 16:43, January 5, 2018 (UTC)
Fanon Recruitment
Edit
Hello!
Pardon me. I'm actually one of the leaders of The Walking Dead Fanon Wiki. I'm going around offering spots on the wiki for people!
Not that the spots are limited. Actually, I'm presenting the wiki to make it more known. It's for all fans of the walking dead to write your own stories and read up on others. You can edit the main canon in your own version, you can interact with like minded people. It's a no judgement zone and is perfect for anyone who desires a creative outlet.
You can bounce ideas around or even discuss the normal walking dead show in a more calm and put together environment. You don't have to abandon this wiki, but this is... like the Fear The Walking Dead of this wiki. Except competent.
Sorry. Bad comparison.
My point is, the offer is there. Pop on if you'd like and let one of the admins know if you wanna join! We'd be happy to have you. :)
If it's not for you, that's okay! Thanks for taking the time to read! KeepOnKeepingOn (talk) 04:20, January 8, 2018 (UTC)
Michonne Picture
Edit
Sorry... just saw your messages, not intentionally trying to piss you guys off. FoxieRB (talk) 02:52, March 3, 2018 (UTC)
I thought her mother should be listed because this situation is different... it's an important part of her character... her mother is there with her at the sanctuary, referred to a few times both in the show and the summary... and is the active reason she's married to Negan. Yes? FoxieRB (talk) 20:51, March 11, 2018 (UTC)
IMDB for FTWD 4x01 :) —Mistertrouble189 (talk) 11:55, March 14, 2018 (UTC)
Don't undo other people's work for no reason and without giving a reason. Not cool.
Thank you very much for your help
Edit
Thanks for your help on reverting Ethanboon's edits. I'm very sorry I couldn't deal with this user anymore. Couldn't take the horrible/nasty comments anymore. Thanks for standing up to the user. I really appreciate it. And just reverting a ton of vandalism. (Natalie j (talk) 05:44, March 25, 2018 (UTC))
Thanks again for your help
Edit
Hello. Just wanted to say thanks again for your help on fixing some vandalism. I really appreciate all of your help. (Natalie j (talk) 03:00, April 6, 2018 (UTC))
What is your problem? I am putting up a correct page, stop sabotaging it.
You don't have a clue.
Edit
The page I am putting up is correct. Yes he isn't shown in the version you will see on television every Sunday night, but he is in the uncut version of Season 8. It is hard to get past the red tape to watch it unless you're from a family who work for AMC. There is an uncut version of every season and the episodes usually go for up to 90 minutes each
Just stop.
Edit
I cannot provide a source at this time until AMC release the full info of every character from the uncut seasons. Just leave the page be so I can focus on trying to get this source sooner.
He is a a character from the uncut version, that means he is UNVIEWABLE to normal TV watchers, you wont be able to see him and the many others unless you pay big bucks and are connected to AMC. It is worth it, the uncut seasons put the regular ones to shame and then some.
My father works for AMC, has for nearly a decade. I know what I am talking about.
My apology.
Edit
Just wanted to apologize for thinking that you were behind the Joel Mclntrye article. I'm sorry. Undead Jastus (talk) 02:29, April 11, 2018 (UTC)
Charlie nameEdit
http://bloody-disgusting.com/tv/3488248/fear-walking-dead-season-4-looks-wild/DwightyBoy69 (talk) 01:53, April 14, 2018 (UTC)
About Daniel Salazar still alive!
Edit
Why are you changed and undo as Daniel Salazar is Unknown instend alive? please explain to me now? 0411 Jacky 0411  
Because like I said, I have a right to changes his status alive So that means Daniel will appears again in Season 4, but he will survived after explosion of the dam' it's true not lying.
You got the page blocked
Edit
That could have been put on his trivia section not at the star so fuck off you got the page blocked and with stupid infoDwightyBoy69 (talk) 03:55, April 15, 2018 (UTC)
Anne (TV Series)
Edit
Then it would have to be removed at Paul Rovia, instead of only with Anne and Lee! --Kerberos01 (talk) 22:58, April 17, 2018 (UTC)
Cole is gay - https://www.google.com/amp/www.amc.com/shows/fear-the-walking-dead/talk/2018/04/spoilers-fear-the-walking-dead-qa-colman-domingo-strand%3famp=true —Mistertrouble189 (talk) 22:20, April 27, 2018 (UTC)
Talk Pages
Edit
First off, I wasn't "messing with other user's talk pages", I was just trying to make up a message so it would look like I am liked or somet (I dunno I'm random at times), however some schmuck dropped in and undid the edit, and when they tried to inform one another, I wanted it gone, see what I mean? If anyone needed to be decent around other users, I think it is you lot because you would not accept my decision to make up a message on my OWN talk page, I hope it is YOU who will come to respect another users decision next time. Thanks. Also, sorry for taking so long to respond, for some reason I couldn't edit anything on this wiki, but now it's fixed, which is good. BlackMarshWeGo (talk) 22:36, May 5, 2018 (UTC)
No it isnt because when someone is conspiring against me, I have a right to take iy down, same thing you were doing when you kept takng down the mssage I made up on the tall page. And if that makes me look pitiful, then that is more reason to do it, because more users will have pity on me yknow? I doubt a admim blockd me, the admins on here are wayyy too nice to do something as cruel as that. So stop being a smartass and using all those fancy words in an attempt to scare me! Its not working so you may as well stop! BlackMarshWeGo (talk) 23:10, May 5, 2018 (UTC)
Hershel Greene (Hilltop)
Edit
That edit was fast haha. Anyways, just wanted to let you know that Glenn's page is marked only as "Asian-American" because his ethnicity was never informed besides his TV Series counterpart, so I felt like it made sense to revert Hershel from being "mixed Korean-American" to "mixed Asian-American."
Have a nice day!
(╚»★«╝ℓιgнтηιηgЧЭ╚»★«╝ 20:48, May 20, 2018 (UTC))
Reason For My Actions
Edit
Im doing all of this on purpose for you and some of the others to become janitors on here, so I'm just trying to help out in that sense.
RE: Deuteragonist
Edit
1. It has never been confirmed that Rick has a right-hand, and besides, Daryl is not the right-hand man, then he would have to be the second leader, but he has never been.
2. Even if they have a fraternal relationship, that does not mean that he is the deuteragonist. After all, Rick also has a very good connection to Morgan, Carol, Michonne, Maggie. At that time also with Glenn, Jessie, Abraham and others. And none of them has ever been the deuteragonist.
3. Daryl had been with Rick for the most part because Rich wanted Nega dead, and Daryl. Daryl, among other things, because of his captivity at the Saviors, which is why he takes revenge.
4. It does not matter that Daryl had the second most frequent appearances. Besides that, it is also more oider less, because he is a very big fan favorite. Which is why he had many episodes.
5. Rick has not quit yet. In addition, ever thought that Rick and Gimble, etc. say so that attract again spectators. Finally, it is talked about the relegation of Lincoln, so it can be a scam to attract viewers for the ninth season. Sure, it could also be serious, but you should also think differently.

Although Reedus should be the new protagonist from the 10th season, you do not necessarily have to be a deuteragonist beforehand. Maybe he's the deuteragonist from the ninth season, but it was NOT confirmed. This has nothing to do with thinking or anything else. It's just like the intro. Reedus is listed second from season four, but he is not a deuteragonist, but Riggs, and he was listed fifth! --Kerberos01 (talk) 20:47, June 3, 2018 (UTC)
I'll find the link in a sec but, for now: the dash is only used if the person has dual citizenship.Cebr1979 (talk) 22:24, June 29, 2018 (UTC)
Someone who is American but, descends from somewhere else doesn't get a hyphen whereas someone who is both an American citizen and a citizen of somewhere else (aka: holds dual citizenship) does.Cebr1979 (talk) 22:31, June 29, 2018 (UTC)
Omid's age
Edit
Hey, why did you change Omid's age? His Road To Survival counterpart is in his Late 20s, and so is Christa, so wouldn't that mean that the two should be about the same age? Besides, what sources are there saying how old he is officially?
On Sophia's page Trivia
Edit
I don't know why are you keep changeing Sophia's page Trivia with undoing without said With's Sophia's death
Explaning to me why?
About Dwight 
Edit
Dwight is the last appearance of this epsoide in Season 8 "Wrath" and also you have no right to be undoing like that when Dwight's page has been said last appearance "Wrath" (Unknown), but on "Wrath" page Dwight is the last appearance with Trivia. Please do ever do that again for undo the worng way This is the right way for Dwight.
RE:About Marco
Edit
Thanks for the heads up!! --Mistertrouble189 (talk) 13:45, July 23, 2018 (UTC)
That does look like him on the previews of Issue 182. SilentSurvivor64 (talk) 07:46, July 28, 2018 (UTC)
Community content is available under
CC-BY-SA
unless otherwise noted.