Shaquille Carter known professionally as Quille, is an American actor and rapper who portrayed a drug addict in the pilot episode of AMC's Fear The Walking Dead.
Yunquille first started his career in 2012 featuring in Meagan Good's directorial debut and not to long after, his career took a jumpstart in music videos with Chris Brown, Tyga, Kid Ink, Black Eyed Peas, etc.
He was featured in the major 24 hour Pharrell Williams "Happy" music video.
He has appeared in other shows such as Murder in The First (Season 1 & 2) with Taye Diggs and Kathleen Robertson.
Yunquille was featured in Reebok's Game Recognize Game Commercial that debuted 'Superbowl' Commercial break alongside Isaiah Thomas, Jason Terry, and Nerlens Noel. Also in other major ads.
He has appeared in the following episodes of Fear The Walking Dead:
Biography
Shaquille Clarence Carter was born on September 23, 1994. Shaquille is known also by his stage name Q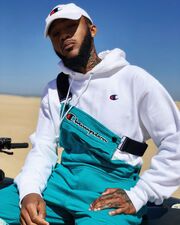 uille and is an American Rapper, Singer-Songwriter, Actor and Model who was born in Oakland, California but grew up in a small town Pinole, California. He is of Louisiana Creole (African American, French) and Mixed Indian descent. Known to post YouTube videos rapping and singing cover and/or original songs, Also has appeared in major commercials, print ads, and music videos.
Other Works
Christian Mingle
Pitch Perfect 2
Wives with Knives
I (Almost) Got Away with It
Looking
Murder in the First
External Links
Community content is available under
CC-BY-SA
unless otherwise noted.