Leak Question
I know that most leaks aren't allowed on this wiki, but how come the leaked achievements are allowed?
TheWalkingEd (talk) 10:37, May 30, 2014 (UTC)
nvm I just realized the leaked achievements are confirmed.
TheWalkingEd (talk) 10:38, May 30, 2014 (UTC)
They're also technically not leaks as they are displayed in their usual places. We've heard no word on whether they're leaks or not, only TT displayed them earlier than usual. 190px (T|B|C) 10:41, May 30, 2014 (UTC)
And even then, the achievements don't give away major plot points aside from "Did this" or "Survived this". They don't give away deaths and such. But like Cam said, they were shown earlier and I believe we waited some time before they were added.TPShadowDragon Born into flame! 10:55, May 30, 2014 (UTC)
Arvo in the Trailer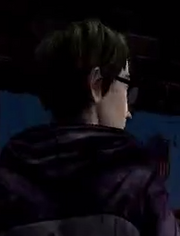 Could this character in the trailer, be Arvo who was mentioned in the leaked content of the Walking Dead? 
I could be. I believe it is, but there's always a chance it isn't him.
TheWalkingEd (talk) 01:47, July 18, 2014 (UTC)
I think it is him. 
Sister
It says that his family is unknown, but what about his sister? Monthly Comics (talk) 14:21, July 29, 2014 (UTC)Monthly Comics
Could be he lied about having sister just like Bonnie. --JIGSAWPUPPET1998 (talk) 14:46, July 29, 2014 (UTC)
But it isn't confirmed yet... :/ 99.244.24.157 12:33, July 30, 2014 (UTC)Monthly Comics
Late Teens
How do we know he is in his late teens? Baconzz (talk) 21:44, August 1, 2014 (UTC)Baconzz
Please someone rip and upload his model, please.
FUCK ARVO
You know when Arvo was saying something in Russian right before he shot Clem? What was he saying? Fireworks888 (talk) 22:06, August 29, 2014 (UTC)
Antagonist
Could he be classed as the antagonist for the last two episodes not only does he bring his group for a gunfight in episode 4 he also shoots clem in episode 5.
Arawn 999 (talk) 14:52, September 3, 2014 (UTC)
Antagonist? Nay! Just blast his head and that's it when you meet him in the seasons 3.~~ Zel.
Sign in here if you gonna blast Arvo's head in the season 3.
~~Zelazko signed
To be fair, I can't really blame him for shooting a Clem who's been an utter b***h to him, especially since Kenny was treating him like less-than-dirt and he thought Clem murdered his sister. But even if you don't rob him and try your hardest to get Kenny to be nice he still shoots her. It would have been nice if Telltale included an option to tell Arvo his sister had zombified, but (to my knowledge) there wasn't. That said, as much as I would like to spare him and give him an option at redemption, my version of Clem isn't the forgiving type... Arawn 999 (talk) 04:21, September 7, 2014 (UTC)
He'll probably be back in Season 3.
Community content is available under
CC-BY-SA
unless otherwise noted.