Mike Senior, Indigo and Victor Waddell were credited.--Krloz to (talk) 04:05, November 7, 2013 (UTC)
Brian Hillard
Brian Hillard was credited. He should be listed in Co-Cast.--187.172.250.187 00:19, November 22, 2013 (UTC)
Yes. He was credited.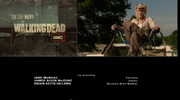 --
Krloz to
(
talk
) 00:39, November 22, 2013 (UTC)
Former Starring Cast
Why are Lawrence Gilliard Jr. and Andrew J. West in former Starring cast? they were always ate also starring? soon if withoiut answer i'll edit it.
~~jeanlsm~~
Season 8 Opening Credits
How could Steven Ogg, Katelyn Nacon get promoted so quickly? Mitt Campbell (talk) 16:15, April 17, 2017 (UTC)
Community content is available under
CC-BY-SA
unless otherwise noted.