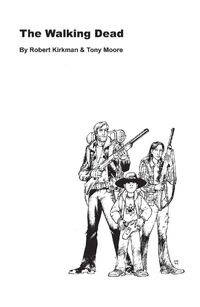 The Walking Dead Pilot is the original story and comic from that of Robert Kirkman and Tony Moore. It was released in early 2003, prior to the comics initial release and previews several things as to what to expect.
Pilot Synopsis
"Rick Grimes is a police officer in a small town in the state of Pennsylvania. He lives in a nice house in the suburbs with his wife, Carol, and son, Carl. Rick has not seen much action. Apart from his training with a firearm, he has never fired his gun, and he is not a hero. When given the news that the dead roam the county committing mass murder and eating their victims Rick must rise to the challenge to protect his family from the madness that surrounds it.
This comic is about a man who will do whatever it takes to protect his family. When private residences are declared unsafe, Rick and his family are thrown out to the road in search of food, shelter, and something that at least resembles stability. We will continue to follow the Grimes family while trying to find a way back to his previous life as we know, the first story arc detailing his journey across the state that results in the taking of a deserted school. This school quickly becomes a well-defended fortress, while life in America becomes something like the medieval times. Once you have established a secure base of operations, Rick will lead a army to expand the search for a safe area, and eventually retake the planet ... or at least try."
Gallery
Credits
Deaths
Trivia
While there are many major differences between the pilot and the comic that would be published, one notable change is that Rick's wife is named Carol, whereas in the comic it is Lori.
If you look closely, on the TV it says "Kirkmand Moore" referencing Robert Kirkman and Tony Moore, the original writers of the story.
Originally, the name for the comic was "The Night of The Living Dead". The pilot for the comic was also set in the 1960s.

Additionally, instead of being set in Georgia, it was to take place in Pittsburgh, Pennsylvania.

A colored version of this cover is featured on the cover of Issue 3.