Axel TWD is responsible for this interview, conducted on January 31, 2013.
---
Anthony Guajardo is a young actor who portrayed Miguel on AMC's The Walking Dead, in the episode "Vatos".
---

Anthony Guajardo

TWD Wiki: How did you get the role of the Miguel on The Walking Dead?
my agent called me and said i had an audition for the character, next thing i knew my dreams started coming true haha
TWD Wiki: Did you read the graphic novel prior to getting the role? If so, do you have a favorite character?
i didn't, but based on the shows characters i would choose Daryl
TWD Wiki: What was the environment on set like?
it was great, i was pretty shy at first but everybody on set was being so nice to me and it helped me relax
TWD Wiki: What was it like to work with amazing actors such as Andrew Lincoln, Norman Reedus, and IronE Singleton?
it was great! they were all really cool guys, i still run in to Norman and IronE every once and a while, such cool guys.
TWD Wiki: Do you have any interesting or funny stories to tell that occurred in the process of filming the show?
hmmmm i remember in one scene while Norman and i were fighting, he accidentally spit in my mouth, but i just kept acting haha downed a whole bottle of water after that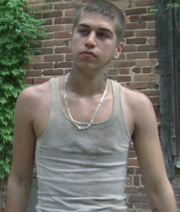 Anthony Guajardo as Miguel
TWD Wiki: Do you know of any scenes that were cut before the final version of "Vatos" aired?
nope! they were all there
TWD Wiki: The Vatos gang are never seen or heard from again after that one episode. However, in a deleted scene, the nursing home is shown to be overrun with walkers. Do you have any ideas on what happened to the gang and specifically your character, Miguel?
hahaha no comment ;)
TWD Wiki: Are you currently working on any other projects?
i am working on a few actually, but i'll just spill the beans on one. it's called sangre y familia and i'm shooting it with Emilio Rivera and Noel G.
TWD Wiki: Thank you again on behalf of the entire wiki! We appreciate it very much.
thank you guys! i hope to see you guys around and appreciate you taking an interest in me!
Related Interviews
To read an interview with Theodus Crane, the actor who portrayed Big Tiny, click here.
To read an interview with Vincent Ward, the actor who portrayed Oscar, click here.
Community content is available under
CC-BY-SA
unless otherwise noted.