---
This interview was held by Rick123Axel.
Danielle Burgio portrayed Judy in Season One of The Walking Dead Webisodes.
---
How did you get your role as Judy?
I had worked with Greg Nicotero on a few films in the past and he thought of me for the role. It's was his first time directing Walking Dead and has since gone on to be one of their best directors as well as amazing producer on the show. Lucky to have friends in high places and very flattered he wanted to work with me again after not seeing him for many years. A great team and project I was very proud to b a part of! He is also the master of all things horror and has made me up to look gruesome on many fun occasions. My first with him was John Carpenters Vampires.
Did you watch the show or read the graphic novel prior to your role?
I had seen a few episodes. When we shot it they were only part way through season one. It's amazing that it's turned into one of the biggest shows on TV. I didn't know I would be a part of such a classic. It's been incredible to meet so many fans from all over the world! Very cool to be a part of the zombie craze.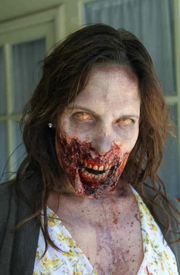 What is the atmosphere like on the set of such a serious, dramatic show?
It was a lot of fun, people definitely enjoying themselves. And at the same time there is always a sense of seriousness to get it all shot in the time that you have.
Was there anymore to the scenes that didn't make it past post-production with you in them?
No...it was all there on screen.
Do you have any interesting or funny stories from your time on the set?
Nothing to speak of. All my work is interesting and fun...I'm very lucky.
What was the best thing about working on the walking dead?
Just being a part of something so iconic.
If a zombie apocalypse were to happen which character from the show do you think you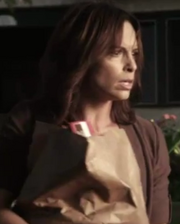 would be most like?
I know it sounds crazy but I don't usually watch the shows I work on however, I've been told that I have a lot in common with Maggie.
Are you currently working on anything interesting that you can reveal?
I worked on Scandal a few days ago as a stunt double. And a small part on Modern Family. But ask me that question again in a week or two....I might have a really good answer.
Thank you again on behalf of the entire wiki! We appreciate it very much.
You're welcome!
Community content is available under
CC-BY-SA
unless otherwise noted.