Kaffe4200 is responsible for this interview, conducted on January 9, 2013.
---
Julian Kwasneski was the voice director on The Walking Dead Video Game by Telltale Games.
---

Julian Kwasneski

TWD Wiki: Did you watch the show or read the comics before you began working on The Walking Dead Video Game?
Both. I watched the show to hear how the Walking Dead universe sounded, how people conversed, accents, styles, general vibe, music, etc. Since the games were being based on the comics I also read all of them. I found the comics to be a great source for reference because they allowed my imagination to wander and left me with a good impression of the drama and horror of the world.

TWD Wiki: How did you come to work on The Walking Dead?
I've been working with Telltale since the beginning so we rolled onto the project early in the pre-production phases. There were other designs for the game initially and I got to watch it bend and turn into what it is today.

TWD Wiki: What was the best part about working on a video game like The Walking Dead?
I found that it was very encompassing and immersive work. There were so many moods we needed to capture out of the actors and under a wide range of situations. All of us on the production side were also quite attached to the characters and some of the sessions were very heavy. Lee and Clem's final moments were quite an experience, both in and out of the studio.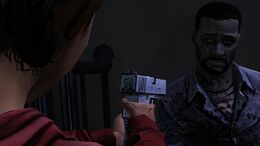 Clementine Saying Goodbye to Lee
TWD Wiki: Was it hard to make the music emotional enough?
You'd have to ask the master this one, Jared Emerson-Johnson did all of that.

TWD Wiki: Will you continue to work on Season 2 of the game?
Absolutely. We have a great momentum going and I'm in a place where I actually miss working on the project. There's never a dull moment.

TWD Wiki: Have you played the game yourself?
More than you could ever imagine.

TWD Wiki: Who is your favorite character from the game?
I'm a huge fan of all the characters. Much like I don't have a favorite color or song, it's hard to just say that one is more favored than another because they all are connected and rely on each other. Of course Lee and Clem are tops on the list but I was a Kenny fan from Gavin's audition.
Related Interviews
To read an interview with Gavin Hammon, the voice actor of Kenny, click here.
To read an interview with Melissa Hutchison, the voice actor of Clementine, click here.
Community content is available under
CC-BY-SA
unless otherwise noted.