Kaffe4200 is responsible for this interview, conducted on March 8, 2013.
---
Parker Wierling is an American actor who portrayed Noah, a resident from Woodbury, on AMC's The Walking Dead.
---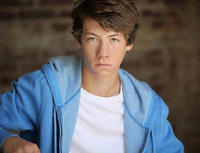 Parker Wierling

TWD Wiki: How did you come to work on The Walking Dead?
I got a call from my agent saying that I had an audition for The Walking Dead, so I filmed it as fast as possible and sent the audition to them via email that night. We got word a couple days later that they were waiting to see if the producers liked me or not. That night, I found out that I booked the role.

TWD Wiki: Did you watch the show or read the graphic novels prior to your casting?
I never read any of the graphic novels, but I watched every episode of the show. It's one of my favorite shows ever.

TWD Wiki: How is it like to work on the set?
It's awesome. Everybody is so nice and it's just a fun time. You can film for 10 hours and only feel like you've been there for 30 minutes.
TWD Wiki: Do you have any interesting or funny stories from your time on the set?
Before we filmed my scenes, I had to go figure out my costume the day before. While I was there, my dad and I were walking to the costume department, and on the way we saw a couple zombies taking a smoke break outside. You don't see something like that every day.

TWD Wiki: Do you recognize something from yourself in Noah?
Like Noah, I want to do my own thing as opposed to sticking by mom for most of my life. I can relate to how he wants to be independent from his parents.

TWD Wiki: What is the hardest thing about playing the role as Noah?
Nothing was too hard about actually playing the part since I only had one line, but it was pretty hard not to tell anybody that I was going to be on The Walking Dead for six months.

TWD Wiki: I'm curious, did you have any more lines that were filmed but cut, it's always fun to find out what didn't make it past production?
I didn't have any other lines in the show, but there were a few close ups on the wall scene at night that were cut out.

TWD Wiki: You're a pretty new actor. Do you hope your role on The Walking Dead will lead to bigger roles in the future?
I really hope so. That would be awesome. I've been working for a while to try to land a role like this. I only hope that it will help me obtain bigger and better roles later on.

TWD Wiki: Are you working on anything special at the moment?
Not really. I've been doing a lot of auditions for some cool stuff, but no bookings since The Walking Dead. However, if anyone wants to stay up-to-date on my latest projects, they can "Like" my Facebook Fan Page http://www.facebook.com/parkerwierling. I would love the support.
Related Interviews
To read an interview with Theodus Crane, the actor who portrayed Big Tiny, click here.
To read an interview with Vincent Ward, the actor who portrayed Oscar, click here.
Community content is available under
CC-BY-SA
unless otherwise noted.