ThatGuyWhoLikesTWD is responsible for this interview, conducted on October, 11 2013.

---
Tripp West is an actor who portrayed a man living in Woodbury on The Walking Dead
---

Tripp West

TWD Wiki: How did you get your role on the walking dead?
I submitted through an Atlanta area casting company. They were looking for "guards" for Woodbury. At the time, I was out of work (I'm a radio DJ) and was doing a lot of background work on different movies & TV shows. 7

TWD Wiki: Did your character have a name or backstory? If not did you make one up for yourself?
I was not given a name. I never really thought about giving myself a backstory. I would have to think about that.
TWD Wiki: Do you have any interesting or funny stories from your time on set?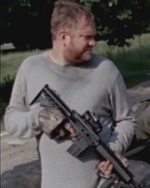 The woodbury guard with a machine gun
David Morrissey, as demented as "The Governor" is, is an extremely nice guy. During the attack on the prison in Ep. 16, he would take the time to talk to us and set the tone of the scene so we would stay focused on the intensity of what we were doing. If you've ever done any background acting, or been an extra, you will know that the principle actors rarely address the background. I never got the chance to thank him. 

TWD Wiki: Are you currently working on any other projects?
No. I went back to work in radio back in August. 

TWD Wiki: Thank you for the interview, on behalf of the entire wiki!
No problem. 
Related Interviews
To read an interview with Meaghan Caddy, who portrayed Woodbury resident Eileen, click here.
To read an interview with Mitchell Gunter, who portrayed a Woodbury survivor, click here.
Community content is available under
CC-BY-SA
unless otherwise noted.