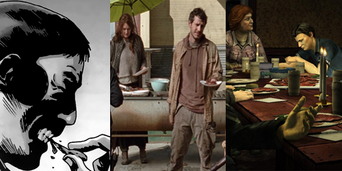 Cannibalism is a recurring theme in The Walking Dead. It is when a living person eats another person, usually done in an act to survive.
Occurrences
While Rick Grimes' group is trapped in Terminus, various body parts, including a dismembered torso, are seen in the room where Rick, Glenn Rhee, Bob Stookey, and Daryl Dixon are being held, implying that all the residents are cannibals. (No Sanctuary)
Bob has his left leg amputated from the knee down and cannibalized by Gareth, Martin, Theresa, Albert, Greg and Mike. (Strangers)
Gareth informs Bob that the survivors who arrived at Terminus either joined their community or fed them. (Four Walls and a Roof)
Gery Benoit and several other Tower residents were executed for passing off human flesh as food in order to meet hunting and scavenging quotas imposed by the Tower leadership, although Gery's wife May claims that her husband was framed by Georgia.
Community content is available under
CC-BY-SA
unless otherwise noted.