Wiki Targeted (Entertainment)
Play Sound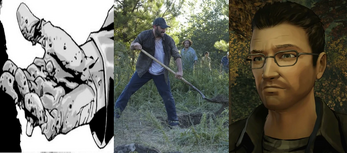 Foreshadowing is a literary technique that is a recurring theme in The Walking Dead. It is when an event that has yet to happen is referenced, usually in a way only the reader/viewer can pick up on.
Occurrences
While Andrea and Dale were hunting in the woods, Andrea jokingly says that she would eat Dale if she could get away with it. This foreshadows that Dale is later going to be eaten by the Hunters. (Issue 12)
Tyreese tells Rick about how he saved his daughter Julie from being raped by killing the assailant. In Issue 57, Rick saves Carl from being raped by killing the assailant as well. (Issue 7)
Chris and Julie constantly talk about wanting to "do something" together, foreshadowing their suicide pact. (Comic Series)
Andrea says that it's good to practice shooting in case they're attacked by another group of survivors in the future, foreshadowing that the prison will be attacked by Woodbury. (Comic Series)
When talking about being sentenced to jail for tax fraud, Thomas turns away from the group. This foreshadows Thomas lying and killing both Susie and Rachel (Issue 14)
Rick tells Dexter that he will beat him to death if he finds out he killed Rachel and Susie. When Thomas is revealed to be the killer in the next issue, Rick almost beats him to death. (Issue 16)
Dale tells Rick he might not be able to use his right hand again after he broke it beating Thomas. This foreshadows the Governor cutting his right hand off. (Issue 18)
Dale wonders what would happen if an organized group attacked the prison, foreshadowing the Governor attacking the prison in Volume 8: Made To Suffer. (Issue 18)
Billy wonders if he might have a shot with Carol when talking to Otis about women, foreshadowing their affair in Issue 41. (Issue 30)
Rick jokingly tells Dale that he should be trying to eat pieces of him. This foreshadows Dale getting eaten by the Hunters.
While at the National Guard Station, Andrea spots a tank and wonders if anyone knows how to drive it. In Issue 42, the Governor attacks the prison with a tank. (Issue 38)
Hershel Greene says that he thinks he may have seen his daughter Maggie for the last time after she leaves the prison after the initial attack, foreshadowing that he will die in the assault. (Issue 45)
Dale tells Andrea how weird it is that they haven't run across a single roamer the day Ben killed Billy. In the very next issue, Dale is bitten by a zombie. (Issue 61)
Douglas tells Rick how he was horrified about reading a story of a man sucking out his son's eyes. This foreshadows Douglas accidentally shooting out Rick's son's right eye. (Issue 70)
Rick tells people not to get a gun from the armory if they're not comfortable with one, as they don't need accidents. This foreshadows Carl getting accidentally shot in the eye by Douglas. (Issue 80)
Maggie isn't sure if it's safe to travel to the Hilltop, as the Saviors could be out there watching them, foreshadowing the group getting captured on the road by the Saviors and Glenn getting killed in the next issue. (Issue 99)
Spencer Monroe was seen praying in the church for "The strength to do what must be done." This was foreshadowing Spencer betraying Rick Grimes by pleading with Negan to kill Rick and make himself the new leader of the Alexandria Safe-Zone. (Issue 108)
While fighting off roamers Negan says that no one gets bit by them anymore. That very same issue, Andrea gets bit. (Issue 165)
Negan mentions that Sherry is an opportunist. This foreshadows Sherry's plan to take over the joint communities after the Whisperer War is over. (Issue 158)
Dwight likens Pamela Milton to Negan while he holds her at gunpoint. At the end of Issue 190, Pamela orders her forces to attack Rick in a strikingly similar manner to Negan ordering the Saviors to attack in Issue 119. (Issue 186)
As Hannah runs through the neighborhood looking for her children, a bicycle can be seen at the side of the road, referencing her eventual fate as the bicycle walker. (A New Day)
Coming
During the cutscene after the first mission, Jess says that Merle isn't right, which foreshadows that he will go back to the bar to retrieve his medicine stash and kill the gang members which Daryl says to Merle that Jess was right about him.
Tyreese foreshadowed the Governor's death by saying to him and Lilly Caul that Brian will "die by their own swords."
Community content is available under
CC-BY-SA
unless otherwise noted.