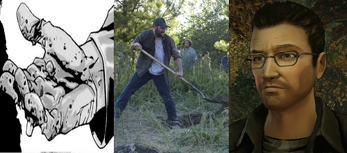 Foreshadowing is a literary technique that is a recurring theme in The Walking Dead. It is when an event that has yet to happen is referenced, usually in a way only the reader/viewer can pick up on.
Occurrences
As Hannah runs through the neighborhood looking for her children, a bicycle can be seen at the side of the road, referencing her eventual fate as the bicycle walker. (A New Day)
Coming
During the cutscene after the first mission, Jess says that Merle isn't right, which foreshadows that he will go back to the bar to retrieve his medicine stash and kill the gang members which Daryl says to Merle that Jess was right about him.
Tyreese foreshadowed the Governor's death by saying to him and Lilly Caul that Brian will "die by their own swords."
Community content is available under
CC-BY-SA
unless otherwise noted.