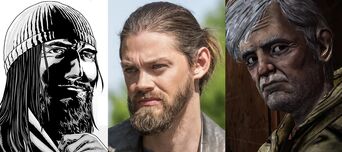 A nickname is a recurring theme in The Walking Dead. It is when a character is referred to by a different other than his or her birth name. Nicknames can be chosen under the circumstances that is related to the person's appearance or personality.
Occurrences
Patricia is called "Patty" or "Pat" for short. (Dead Reckoning)
Ed tells the main character upon meeting him that his friends call him "Trucker". (Social Game)
The player can give themselves a nickname, if they want one. (Social Game)
Jesse is known mostly by the survivors as "Uncle Jesse".
Joe is simply known as "Joe the Mechanic".
Marla Wilkinson is often referred to as "Old Girl", "Ol' Girl", and "Sweet Ol' Marla". (Social Game)
Ed refers to Otis as "Big" Otis.
Emily gives nicknames to several members of the group: "Puddydog Don" (Don), "Crazy Eyes Lady" (Megan), "The Squeaky One" (Nora), "Idiot" (Hero Player), "Mister Policeman" (Sky), and "Jarhead Max" (Max).
Emily is commonly known around camp as the "axe-wielding girl".
Community content is available under
CC-BY-SA
unless otherwise noted.