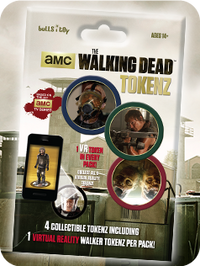 The Walking Dead Tokenz
are round disc shaped tokens featuring decals with imagery from
AMC
's
The Walking Dead
, created by
Bulls I Toy, LLC
.
Packaging
The tokens come blind packaged in foil packages with 3 regular tokens and one "Virtual Reality" token for a total of 4 collectible tokens per package.
Tokenz
There are 48 different Tokenz to collect in all: 42 regular Tokenz and 6 Virtual Reality Tokenz. There are also foil variants of the regular Tokenz. The total number of available packaged tokens closer to 90.
The front of each token features a popular character, walker or other image from a scene. Each token measures approximately 1-9/16 inches in diameter and 1/8 inch thick.
The tokens are different colors and there are 5 different colors for the base and foil tokens:
Blue
Brown
Burgundy
Gold
Green
The virtual reality tokens are all black. These tokens feature an image of popular Walkers from the TV series and they have an additional bonus feature. They can be scanned with the free Scan It™ mobile app available in the Apple App Store for Apple products and for Android Devices via the Google Play store. Once scanned, the special virtual reality tokens should show the corresponding walker come to life in virtual reality on a device's screen.
Gallery