Scroll here if interested
:
This user is a Mazzara hater.
Thanks for ruining Season 3.

"Winner of over 90 'Game of the Year' awards."
This user is a fan of Telltale Games' The Walking Dead.

This user is a fan of Clementine.


"You should probably think about being nicer to me."

This user is a fan of Carley.
Long live the reporter!

This user thinks Season 1 of TV show is better than Season 2, 3 and 4.


They have a nerve for firing Frank.

This user is a fan of Carol Peletier.
You don't need to like what I did. You just have to accept it!

This user is a fan of Sasha.
"You had a few years before I was born"

This user is a fan of Michonne.
"Couldn't leave this behind it's just too gorgeous."

Long live Michonne and her Katana.

This user is a fan of Maggie Greene.
Long live Bo-Peep, Maggie Greene!
A little about me
I am so obsessed with TWD that I always check my house for walkers when it's dark. Not kidding.
My little wish is that my Parents would get me at least one issue of the comic… Christmas/Birthday presents list? I read them online instead for the time being.
I love 1980s and everything associated with this decade, especially the music. Times have changed for worse…
And yes, I am also very interested in aquarium fish, I even got 4 fish-tanks in my room!
Mazzara Haters Template Co-Authorship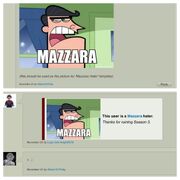 …I just happen to be the co-author of the MazzaraHater template, with myself coming up with the idea and the picture, and Lego-dark-knight0518 actually creating it :)
Edits: Goals
Note: I often forget to log-in or am not bothered to, so some comments and edits are anonymous. Nothing major, just dealing with spelling, grammar, punctuation and broken links. I'm here more often to just read rather than for editing.
50 EDITS ✓ ?/?/13
100 EDITS ✓ ?/?/14
150 EDITS ✓ 13/03/14
200 EDITS ✓ 25/06/14
250 EDITS ⇐
300 EDITS ✗
"Living Among The Dead" (LATD), my TWD spin-off [~WIP]
I made up a whole spin-off storyline set in the comic universe, but most of it is currently only in my head... :]
The main characters are:
Eleanor Haselberg and Daniel "Dan" Wilkinson - a young couple from Jacksonville
---
Mia and Tia Kent - two teenage sisters separated at the beginning of the apocalypse
Lisa and Barry - their parents who travel with Tia to a safe haven
---
Jason and Camellia "Camilla" Woods - a married couple gone camping with their in-laws just outside of the city
Miguel "Mick" and Melanie "Mel" - their little children
Deborah "Debbie" and Ted Woods - Jason's parents
Maria and Jose Banderas - Camilla's parents
Ana Banderas - Camilla's younger sister
---
Shayla Whyte - a very friendly woman in her 50s with a great sense of humour; fruitlessly waits for her son's family to join her at the camp
Elizabeth Schmidt - a grumpy, recently widowed woman in her late 40s who's gone camping to get away from it all
---
Amina - a little girl Eleanor and Dan find hidden in the attic of a house by her now roaming parents
Chloe Schmidt - Elizabeth's 7-year-old granddaughter whom Eleanor and Dan manage to locate and save, although arriving too late to help her parents
---
More To Be Announced….…
A Mini-tribute to my Idol
I thought I'll just throw her in here
cause She's awesome :D
Saw her on two concerts and met 8/5/14. Can't wait for more! *fangirls*
Now guess who She is…
Hint: 1̶̷9̶̷8̶̷0̶̷s̶̷ (+yes it's the same lady as on my profile pic…)
Community content is available under
CC-BY-SA
unless otherwise noted.