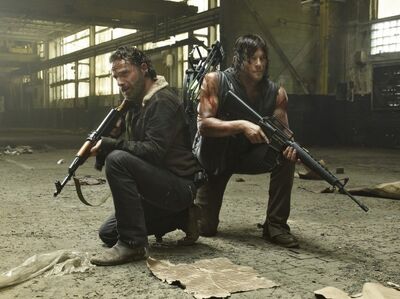 "The most-watched drama series in basic cable."
This user is a fan of AMC's The Walking Dead.

"The zombie movie that never ends."
This user is a fan of Image Comics' The Walking Dead.

This user is a fan of Negan.
"Look at that! Take it like a champ!"

This user is a fan of Daryl Dixon.
Long live the Darylocracy!

This user is a fan of Rick Grimes.
Long live Officer Friendly!




This user is a fan of Glenn Rhee.
Long live the Korean!




This user is a fan of Maggie Greene.
Long live Bo-Peep, Maggie Greene!

This user is a fan of Michonne.
"Couldn't leave this behind it's just too gorgeous."

Long live Michonne and her Katana.

This user is a fan of Carol Peletier.
You don't need to like what I did. You just have to accept it!

This user is a fan of Hershel Greene.
"Long Live Hershel, the bearded one!"

This user is a fan of Shane Walsh.
"You're pretty much dead already."

This user is a fan of Abraham Ford
We got to fix the WHOLE DAMN WORLD with this guy!

This user is a fan of Merle Dixon.


"Slow down, beaner."

This user is a fan of The Governor.
Long live the eye-patch!

"Go through the fences in your cars, get your guns, we go in -- Kill them all"

This user is a fan of Morgan Jones.
"The people like me, the weak ones, we have inherited the earth."

This user is a fan of Dwight.

Long live the crossbow burnt face bad-ass!

This user is a fan of T-Dog.
"Don't gimme that gangsta shit."

This user is a fan of Morales.
"Well Officer Friendly, from up the road a ways, welcome to the big city".

This user is a fan of D.J.
"Damn. Need to get me one of those."

This user is a fan of Gargulio.
Clearly the best character!

This user is a fan of Joe.
"C'mon fella', suicide is stupid. Why hurt yourself when you can hurt other people?"

This user Hates Lori Grimes.
Long Hate the Cranky Cheating Bitch!

This user doesn't like Emo Carl.
Wear an eyepatch!

This user thinks Lauren Cohan is a sexy piece of ass.
Glenn, you lucky bastard!.

This user is a fan of Rosita's ass.
Son of a dick, that's a great ass!

This user thinks Rosita is one sexy Latina.
Hubba Hubba.
Friends
Personal Info
Hello! I'm an administrator here, at The Walking Dead Wiki! Need help? Just drop a message on my talk page! My name is Anastasios Bilikaidis, but my friends also call me BIGBROBILI or Bili. The Walking Dead has a special place in my heart.
I started watching the show back in 2014. It was when season 5 was still airing. I hadn't completed a whole tv series until then, so I decided to give The Walking Dead a try, mainly because its good reception. I randomly chose The Walking Dead, because of its popularity at the time and not because I had a close person, who was watching it or something. I never thought that I would love a fiction world full of zombies, as I wasn't very interested in zombie stuff, until I watched the pilot episode... probably one of the best decisions I have made as of now. The story, the characters, the villains, the special effects, the actors, the music... Basically, I loved everything about the show! In a few months I had watched all the first five seasons and managed to catch up just in time to watch the season 5 finale. By the time I'm writing this, I have watched The Walking Dead approximately three times and loved every season of it (well, seasons seven and eight the least, but you know, I still liked them). The tv show is my favourite The Walking Dead media, because I love watching the comics coming to real life and in live action!
During the summer break of 2015, I discovered the comics, which I also loved! At first, I used to have the comics more as a guide to the show.
At the same time of this year, I learned that a The Walking Dead spin-off named "Fear The Walking Dead" would be released sometime on August. At first, I was very excited for it to be released. However, very soon I'd find myself very disappointed about it. I only watched the first three or four episodes of it and I almost fell asleep. Fear was nothing compared to the mother show. So, I decided to give up on the show. It would be after a lot of time I would start to watch Fear again. Specifically, I started watching Fear again when the news about Morgan's crossover from the original show to Fear came to the surface. So, I decided to give Fear another chance, considering Morgan was one of my favourite characters of the mother show. However, season 4 turned out to be a huge disappointment, at least for me. Season five was somehow even worse than season four.
I haven't played the video games and to be honest, I'm not interested in doing so.
Main Characters Total Appearances TV-Series vs Comic Book Series (As of season 10x10 & issue 193)
Daryl Dixon: 116 episodes
Rick Grimes: 102 episodes/Rick Grimes: 178 issues
Carol Peletier: 96 episodes/Carol: 29 issues
Michonne Grimes: 90 episodes/Michonne: 144 issues
Maggie Rhee: 82 episodes/Maggie Greene: 126 issues
Carl Grimes: 77 episodes/Carl Grimes: 159 issues
Rosita Espinosa: 71 episodes/Rosita Espinosa: 47 issues
Judith Grimes: 65 episodes/Judith Grimes: 8 issues
Glenn Rhee: 65 episodes/Glenn: 85 issues
Eugene Porter: 59 episodes/Eugene Porter: 97 issues
Tara Chambler: 55 episodes
Gabriel Stokes: 50 episodes/Gabriel Stokes: 36 issues
Aaron: 47 episodes/Aaron: 71 issues
Sasha Williams: 44 episodes/Julie: 8 issues
Negan: 35 episodes/Negan: 52 issues
Beth Greene: 35 episodes/Billy Greene: 26 issues
Enid: 33 episodes
Morgan Jones: 33 episodes (62 with Fear continuity)/Morgan Jones 26 issues
Jerry: 31 episodes
Hershel Greene: 31 episodes/Hershel Greene: 32 issues
Andrea Harrison: 31 episodes/Andrea Grimes: 133 issues
Abraham Ford: 29 episodes/Abraham Ford: 43 issues
Ezekiel: 26 episodes/Ezekiel: 19 issues
Siddiq: 26 episodes/Siddiq: 36 issues
Paul Rovia: 24 episodes/Paul Monroe: 75 issues
Dwight: 22 episodes (32 with Fear continuity)/Dwight: 48 issues
Tyreese Williams: 21 episodes/Tyreese: 33 issues
Lori Grimes: 20 episodes/Lori Grimes: 40 issues
Alden: 19 episodes
Shane Walsh: 18 episodes/Shane: 8 issues
Philip Blake: 17 episodes/Brian Blake: 15 issues
Dale Horvath: 16 episodes/Dale: 47 issues
Alpha: 15 episodes/Alpha: 12 issues
Anne: 15 episodes
Magna: 15 episodes/Magna: 48 issues
Connie: 15 episodes/Connie: 22 issues
Gregory: 15 episodes/Gregory: 15 issues
Spencer Monroe: 14 episodes/Spencer Monroe: 30 issues
Yumiko: 13 episodes/Yumiko: 40 issues
Lydia: 13 episodes/Lydia: 35 issues
Simon: 13 episodes
Bob Stookey: 13 episodes/Bob Stookey: 3 issues
Merle Dixon: 13 episodes
Jessie Anderson: 11 episodes/Jessie Anderson: 9 issues
Deanna Monroe: 10 episodes/Douglas Monroe: 13 issues
Beta: 9 episodes/Beta: 11 issues
Gareth: 4 episodes/Chris: 4 issues
---
=
Key
The "Determinant" status applies to characters, who are still alive but have moved from the mother show to other media of TWD.
All 47 Main Characters
Favourite Characters (In Order)
Honorable Mentions (In Order)
Least Favourite Characters (In Order)
TV Series Characters
Grimes Family
Walsh Family
Jones Family
King County Residents
Andrea's Family
Rhee Family
Morales Family
Peletier Family
Dixon Family
Felipe's Family
Jenner Family
Greene Family
Otis' Family
Greene Farm Residents
Michonne's Family
National Guardsmen
Woodbury Survivors
Blake Family
Foster Family
Richards Family
Coleman Family
Williams Family
Allen's Family
Prison Newcomers
Samuels Family
Prison Outskirts
Sam's Family
Chambler Family
Dolgen Family
Post-Prison Survivors
Ford Family
Espinosa Family
Mary's Family
Aaron's Family
Monroe Family
Anderson Family
Miller Family
Scott's Family
David's Family
Miscellaneous Survivors
Dwight's Family
Defectors
The Traitors
The Marauders
Ethan's Family
Sutton Family
Miles' Family
Jerry's Family
Benjamin's Family
Natania's Family
CRM
The Twins
Connie's Family
Lydia's Family
Mary's Family
Sean's Family
Amelia's Family
=
All Main Characters
Favourite Characters (In Order)
Least Favourite Characters (In Order)
Volumes Ranking
Compendiums Ranking
Volumes I Own
=
Favourite Characters (In order)
Least Favourite Characters (In order)
Seasons Ranking (I HAVEN'T WATCHED THE FIRST 3 SEASONS AND I'M TOO LAZY TO DO SO XD)