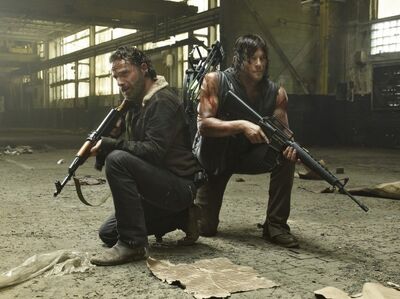 "The most-watched drama series in basic cable."
This user is a fan of AMC's The Walking Dead.

"The zombie movie that never ends."
This user is a fan of Image Comics' The Walking Dead.
Friends
Personal Info
Hello there! I'm an administrator here, on The Walking Dead Wiki! Need help? Just drop a message on my talk page! My name is Anastasios Bilikaidis, but my friends also call me BIGBROBILI or Bili. The Walking Dead has a special place in my heart.
I started watching the show back in 2014. It was when season 5 was still airing. I hadn't completed a whole tv series until then, so I decided to give The Walking Dead a try, mainly because its good reception. I randomly chose The Walking Dead, because of its popularity at the time and not because I had a close person, who was watching it or something. I never thought that I would love a fiction world full of zombies, as I wasn't very interested in zombie stuff, until I watched the pilot episode... probably one of the best decisions I have made as of now. The story, the characters, the villains, the special effects, the actors, the music... Basically, I loved everything about the show! In a few months I had watched all the first five seasons and managed to catch up just in time to watch the season 5 finale. By the time I'm writing this, I have watched The Walking Dead approximately three times and loved every season of it (well, seasons seven and eight the least, but you know, I still liked them). The tv show is my favourite The Walking Dead media, because I love watching the comics coming to real life and in live action!
During the summer break of 2015, I discovered the comics, which I also loved! At first, I used to have the comics more as a guide to the show.
I haven't played the video games and to be honest, I'm not interested in doing so.
---
---
Community content is available under
CC-BY-SA
unless otherwise noted.