Template:MinionFan I LOVE ANIME!!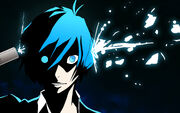 This user is a fan of Dark, Bloxx, Hippo, Dom, Ghost, and Riley.
DON'T FUK WIF DA $QUAAD, PUCCY TEAMS DUN'T WANT WAR.
This user is a Kennyist.
Kenny is love. Kenny is life.
Template:Arsehat Brigade

http://walkingdead.wikia.com/wiki/File:Vlcsnap-2012-11-06-09h02m33s197.png
About dis dik aka me lul
Hi, I'm gay. I'm a big fan of The Walking Dead. The show is how I first came into contact with it. Christmas 2011 is when I got the comics. I loved it and I realized that the comics were much better than the show, and I don't really  like the show anymore for its retarded choices it has made with beloved characters and arcs. When the GAME came around, I fell in love with it. Everything about it appealed to me. When I played it, I liked it more than the show and comic. Daryl is my favorite character, because he's hot and dirty and sweaty and MMMF!
Wiki Achievements 
April 14th, 2014: Gained Video Gamer position.
July 12, 2014: Gained Janitor position. 
August 20, 2014: Gained Chat Moderator position.
December 28, 2014: Sucked a dick.
Friends
Joao
Favorite Characters (In Order)
Rankings
Volume 1: Days Gone Bye: 9.3/10

'
Volume 2: Miles Behind Us: 9.5/10

Volume 3: Safety Behind Bars:10/10
'
Volume 4: The Heart's Desire: 9.5/10

Volume 5: The Best Defense: 10/10

Volume 6: This Sorrowful Life: 9/10
'
Volume 7: The Calm Before: 10/10

Volume 8: Made To Suffer: 10/10

Volume 9: Here We Remain: 10/10

Volume 10: What We Become: 10/10

Volume 11: Fear The Hunters: 10/10

Volume 12: Life Among Them:9.5/10

Volume 13: Too Far Gone: 9.5/10

Volume 14: No Way Out:10/10
'
Volume 15: We Find Ourselves: 8/10

Volume 16: A Larger World:9.5/10

Volume 17: Something To Fear: 10/10

Volume 18: What Comes After: 9/10

Volume 19: March To War: 10/10

Volume 20: All Out War - Part One:9.5/10

Volume 21: All Out War - Part Two: 9/10
Season 1 Ratings
Season 2 Ratings
Community content is available under
CC-BY-SA
unless otherwise noted.