The Real Me
Hi, I'm T.J. but you can call me Teej; many people do. I'm a great swimmer, artist & cook & I can imitate the voices of cartoon characters & real people extremely well. I've been able to for, about, most of my life. I am very proud of this incredible talent. Green is my favorite color in the world. I also LOVE the Grouches from Sesame Street, my favorite TV show. I LOVE Trash as much as they do. I even celebrate National Grouch Day like the Grouches every October 15th. Oscar the Grouch & his girlfriend Grundgetta always have been & always shall be my favorite Grouches in the world. Also, if I could I would totally live in a dirty beat up old trash can. My specialty is gettin rid of redirects w/ the | button. I've gotten rid of redirects with the | key on many other Wikis as well. I'm also an administrator & bureaucrat on the Grouches Wiki. So if anybody ever has a question about that or anything please feel free to leave a message on my talk page & I'll respond A.S.A.I.C. (as soon as I can).
The Fictional Me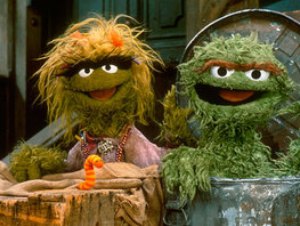 GrouchMan is 1 of the meanest, grouchiest, rottenest Grouches around. His birth name is Oscar the Grouch II named after his uncle, that true rotten legend, Oscar the Grouch of Sesame Street. Oscar & his identical twin brother Travis the Grouch were both extremely popular at Grouch school. He soon became better known as GrouchMan at school, but he became Scar the Grouch after receiving a scar across his left eye after a tragic Grouch petting zoo accident. He mostly goes by Scar, but, he's still GrouchMan nevertheless. At school, Scar also met a Grouch girl who was actually equally grouchy whose name was Grundgetta, another EXTREMELY popular student at Grouch school. She became GrouchGal shortly after that. Travis, soon after, met her identical twin sister Toxica who was & to this day is just as grouchy as her sister. Not too long after they graduated Scar & Grungie became Grouch boyfriend & girlfriend, as did their siblings. They call each other Oskie & Grungie, but Grungie still goes by GrouchGal nowadays. However, shortly after graduation, Scar & Travis' parents, Oswaldo the Grouch & Trashy the Grouch, the brother of Oscar & sister of Oscar's girlfriend, Grundgetta, were killed in a terrible car accident. Right after that, both Scar & Travis, immediately moved right their Uncle Oscar's trash can on Sesame Street, so now their Aunt Grundgetta, helps Oscar to protect & take amazing care of their nephews. Now, all Scar, Grungie, Travis & Toxica do all day is tell other people to scram & argue.
My Contributions
My Favorite Wikis
Community content is available under
CC-BY-SA
unless otherwise noted.