Hi everyone,
I know there have been a lot of blog posts recently so I tried to expand this one to include two separate, unrelated topics. First of all..
A new fight is online! The last fight ended with Lilly destroying Kenny 19 to 11! The new fight is Andrea and Billy Greene against Abraham Ford and Rosita Espinosa. Make sure to vote so your team wins! Don't forget to post why you voted for who you did on my talk page. I like to hear what you guys think!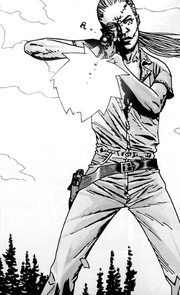 As most of you know, the Walking Dead Video Game by Telltale Games is available exclusively online. This is good in the sense that you don't have to go to a store to buy a disc, but bad if you want to give someone a gift. This is what I wanted to do a few weeks ago for my friend's birthday. So, I made a physical copy of the Walking Dead Video Game. Here are some pictures. Let me know what you think! (The photos look better if you click on them
Community content is available under
CC-BY-SA
unless otherwise noted.