Warning: Semi-Spoilers
Do not proceed if you do not wish to know details about the fourth season of The Walking Dead.
Woodbury in Season 4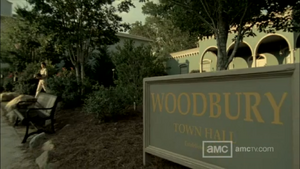 Good news here! While Season 4 has yet to be officially confirmed by AMC, it is confirmed to return to Senoia, Georgia, (Woodbury) in 2013. So, not only does this mean that Season 4 is a guaranteed thing, it also means that we will be seeing Woodbury in Season 4.
So my question to you all is, how will the remainder of the third season play out if we know that Woodbury will still play a role in season 4? Additionally, what will the beginning of season 4 look like? Will the group still be in the prison? Will the Governor still be a threat? Post your comments and questions below!
References
Nelms, Ben. 'The Walking Dead' to return to Senoia in 2013 TheCitizen.com (December 9, 2012)
Reminder About Fight 11:
Just another quick reminder about Fight 11: Randall vs. Ben! Vote here: Vote
Have any recommendations for the next fight? Comment below!
Community content is available under
CC-BY-SA
unless otherwise noted.