New Figurine Series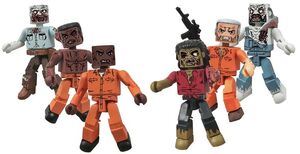 Hey everyone! I would like to bring two new toy series to your attention. The first of which, The Walking Dead Minimates, are a series of Minimates made by Diamond Select Toys and based on the The Walking Dead Comic Series. The second toy line is Funko's The Walking Dead Pop! figures, based on TV Series. Both toy figures are releasing new series this upcoming spring.
The new series of Minimates, series 3, will feature three zombies and the following four human characters:
For more information on the Walking Dead Minimates, see The Walking Dead Minimates.
Which Minimate from Series 3 do you like most?

The second series of the Pop! figures feature three zombies and two human characters, Michonne and Glenn.
For more information on the Walking Dead Pop! figures, see The Walking Dead Pop!
Which Pop! figure from Series 2 do you like most?
Let me know what you think of the two figurine series in the comment section below! Do you plan on getting any? The better question is, which ones?
Which figurine series do you like better, the Minimates figures or the Pop! figures?
Contest
Additionally, a contest by Skybound, featuring fan videos utilizing Walking Dead Minimates is currently running through February 5th, with the winner being announced on February 10th. The winner will receive a personally autographed Walking Dead Compendium and an autographed set of The Walking Dead Minimates Series 3 set. The official rules are below:
Use The Walking Dead minimates to create a cool video. The video should be no more than 60 seconds long. Post the video on YouTube and then email the video link to contests@skybound.com. The best video as selected by Robert Kirkman will receive a signed The Walking Dead Compendium, Vol 1 and a set of signed The Walking Dead Series 3 Minimates. The deadline for entries is February 5th at 11:59pm PST. The winning video will be announced on February 10th at 10:00am PST on www.skybound.com. Any questions regarding the contest, please send them to: contests@skybound.com
References
Don't forget to vote in the latest fight here! It's a close call between Molly and Carley!
Community content is available under
CC-BY-SA
unless otherwise noted.