Hey guys,
There have been a lot of blog posts made recently so I decided to combine 3 ideas into one!  
So-Long Shasha?
First off, some speculation about the TV Series for when it returns on February 10th. This is somewhat old news, but with TWD returning in one week, I figured it would be a good time to bring it up.  Sonequa Martin-Green, the actress who portrays Sasha, Tyreese's sister, was recently cast in a recurring role in the TV Series, "Once Upon A Time".[1] Could this mean that Sasha's days are numbered? Many people speculated that she would not last long even before this news was released, could this simply be the confirmation we needed?
Michonne Statue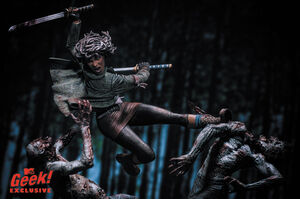 McFarlane Toys unveiled the first ever Walking Dead Statue, featuring Michonne taking down two walkers, in gruesome detail. The statues are 14.5 inches tall and rotate 360 degrees, so it can be rotated to whatever angle suits you best. The statues are limited to 1,500 and are hand-signed by the one and only, Robert Kirkman. They will also come with a certificate of authenticity hand-signed by Todd McFarlane. Pre-orders will be available starting on February 11th, 2013.[2] For more information, see the wiki page here or check out the reveal video here. Pictures of the statue from different angles are pictured below:
Time Warner Superbowl Ads
If you didn't see the Time Warner Superbowl ads, featuring The Walking Dead, check them out below!
Thoughts/Opinions
So, what do you think about all this? Is it just a matter of time before Sasha bites the dust? If so, the important question to ask is how? Let me know your thoughts on how you think Sasha will die as well as how it will affect Tyreese in the comments section below!
What do you think about the Michonne Statue? Kirkman has stated that he would like to see statues of other 'Walking Dead' characters, such as Tyreese, Jesus, and Negan, as well as our main man, Rick Grimes. Out of those characters, who would you want to see a statue of most? Or, would you rather someone else not mentioned above?
And, as always, don't forget to vote on the latest fight, "The Farm Revolution", on my profile page! Thanks for reading!
References