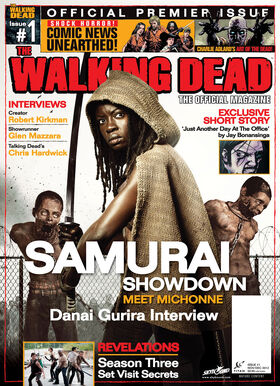 Hello all,
So, the first issue of The Walking Dead: The Official Magazine, produced by Titan Magazines, came out today. If you have a subscription, like myself, you received it about a week ago. However, for those of you who held off, I'm here to convince you that it is worth it. First off, this issue had ten different variant covers which look pretty awesome.
Covers
Content
So about the actual content: This magazine covered much more than I ever expected it to, with info on the TV Series, Comic Series, the social game, both video games, and a whole bunch of awesome toys and figures! There was a bunch of great interviews as well with Robert Kirkman, Chris Hardwick, Charlie Adlard, and Glen Mazzara. For those of you who just read The Road To Woodbury, you don't want to miss the prequel for it written by Jay Bonansinga!
The magazine also had some awesome regular features that they will have every issue including "Anatomy Of A Story" and "Choice Cuts". For more details on the contents of this issue, check out The Official Magazine (Issue 1).
Where can I get my copy?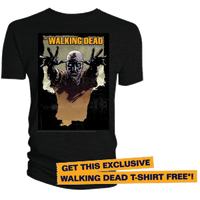 You can pick one up at most book stores (such as Barnes and Nobles) or, if you would like to order a subscription you can here. They are currently offering a special deal in which you can get 6 issues, save $10, and get a free Walking Dead T-Shirt pictured at right. The total price is $47.99 which comes down to about eight dollars an issue. Not bad, especially considering you also get a free T-Shirt. This magazine is a necessity for those of you who constantly scour the web for TWD news. Again, you can order a subscription straight from Titan Magazine's site, http://titanmagazines.com/t/the-walking-dead/us/subscribe/
Thanks for reading! Let me know what you think of the magazine!
Community content is available under
CC-BY-SA
unless otherwise noted.