Hello Ladies and Gents, Walker456 Talk is here
            Im back, and a whole new Walker456 talk where I talk about various topic,theorys,etc. So today's topic is a TOP 5. Waking Dead killed a lot of people, here's a short list of  characters who died that made me either shout at my TV screen or wanting to call Robert and Scott to let said character live.
5. Andrea
So, you may not expect this character, but seriously. She was a vital part of the comics. Someone made her character so bad people hated her. Personally, I liked the character as it meant that  Someone had guts to make her have a slightly bad character devolopement. Her death was emotional an dI did not see it coming, as I knew that she was still alive in the comics. I kinda got angry as I was really excited to see Andrea join the group. Instead, BAM they killed her off by getting bit my Milton. It was emotional for Michonne to see her friend forced to kill herself. Rick talking about the safety, and Andrea saying she knows safety with the gun. God, it hit me in the heart.
4.Milton
I am a fan of this guy. When I found out he died, I just stopped reading. He helped Andrea so much, trying to help her get to the Prison. He was the inoccent scientist who wanted to help. He was a kind man and I laughed when Hershel told him if he wants to see his leg, then buy him a drink. I hate the fact The Governor beat him, and It was kinda heroic for Milton to try and kill Gov. but wasnt able. He died emotionally, and even though I had no feelings for him at first. It all changed when I watched reruns and he was a great character.
3. Hershel
Ok, this character. We all expected him to be Dale, but none of us knew he would be Tyreesed (AKA: Chopped off head). He was working for a long time to keep his patients alive. His friend Caleb died. He almost died from the walkers. He even tried his best to not show the kids and adults the killings of walkers, to make them feel safe. Seriously AMC? His last moments were trying to escape the man named the Governor. That would actually make a good title for a book. "A Man named the Governor". Anyway, Maggie's and Beth's reactions just struck me. He was a great character, and he will be remembered.
NO SPAGHETTI WEDNESDAYS!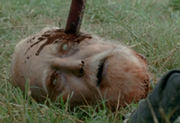 2. Noah
 This death made me scream the most. I was shocked that the writers       would kill this character so soon. He had potential, usually  I read the wiki on what happened(I live in Philippines)  and I had no WiFi. First episode to not read the wiki, gives me an episode with 2 deaths. Death of the Jerk (Aiden) and Death of a Potential Character. He was there for 2 reasons
1. For the hospital and to help Beth. (AKA, killing Beth, I dont believe this too)
2. To Go back to his town and get Tyreese killed ( Or people say. I dont believe this)      
He died, his face being destroyed. He said "Let go" and it made me shout. Glenn's reaction was my reaction. Seriously it was. Noah, you will be remembered. I really loved this character.
Special Mentions
5. Governor
4. Lori
3. Beth
2. T-Dog
1. Tyreese
This death...Noah's reaction to his family's death was 30 % my reaction. I cant believe that they made him die so soon. A book was good, and every good book needs an ending. He had his end, to make Sasha's chaarcter developement. His death, It was kinda his fault. He was in depth with the picture, and did not check the whole room. This made me face palm a bit, but his moments with The Gov, Beth, Lizzie and Mika (which was creepy) and that other guy. It was him facing up to his fears. He was the only humane person in the world, only killing walkers and few people. He will be remembered.
See Ya
End of blog. Thank you for reading. Make sure to keep up, as the next Walker Talk will be soon.
See Ya'll later.                         
Community content is available under
CC-BY-SA
unless otherwise noted.