11-27-13 ( Philippine Time )
Blog Enrtry # 23
CODE: W.Maimer - (BE23)
WalkerMaimer's Review on "Dead Weight"
- WalkerMaimer, Jonin, SL, MMf, RWr
From the Maimer
Salutations,
Hi Guys, WalkerMaimer is back again to give you my review on " Dead Weight "
Here are some few things that all of you should keep in mind:
I am sometimes NOT grammatically correct so pardon me.
Off-Topic is allowed
No violence within the blog (Offenders shall be reported to the Admins).
Do not hesitate to express your thoughts, let it all out.
Enjoy! =D
Newbie Section
Verdict
The episode went up half a notch compared to the last one, In a viewer's perspective it's awesome because of the tank, TG's return, new group, and the impending assault BUT that's not how I am gonna review the episode, I'm gonna do it as scholarly and academically as possible and if you see the review that it's not then it's prudent to disregard what I said and shut up, LOL.
Now, Let's begin the review.
Brian is back and takes over the camp led by Martinez, who informed Mr. Heriot that our dear Shumpert died......the convo ended with Caesar being fed in the "Pits", Tara gets in love with another lesbo, Alisha, Lilly becomes the camp's resident nurse, and Meghan runs around the camp went uh-oh and plays chess. A duo of brothers was introduced a wise ass and a fair minded one, the fair minded one was killed and was dumped in the lake while the other one was recruited to operate the big bucket of bolts. It ends with TG choosing who he kills, The Nubian Queen or One legged Old Man.
The "Re-Rise" of TG: Finally, He returns and takes over a camp of red-shirts. Ahhh the good old trashy Woodbury days. I really love his return scenes, He is a cold blooded walking killer. Now, the time is ripe for him to initiate one of the important stuff in The Walking Dead.......THE ASSAULT.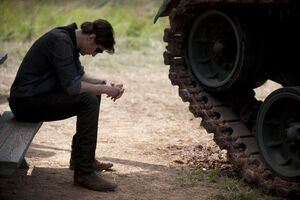 The Band of Brothers: Pete and Mitch: I love these two, though the acting of Pete's character is not as powerful as Kirk Acevedo, who I enjoyed watching as Joe Toye in HBO's Band of Brothers, I still like his character, he is a good man but not leader material. Mitch is somehow the opposite, you can always have the urge to punch his lights out but by the end of the day you can see where he is coming from.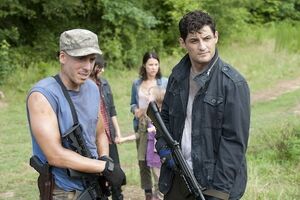 The TANK!: I know, the picture below me sucks and I am not the one who uploaded it plus I'm lazy writing the review today, but since not all of you are blind you can see the tank on the left of your screen. My thoughts: AWESOME!, my dreams are partially getting realized, I want to see it fire the BOOM!.........I would appreciate if someone changes the picture for me.
The Death of Caesar!: It sucks that the Roman Emperor was stabbed by the people who wants power........Oh wait, wrong CAESAR. Okay, the only disappointment of this episode is Martini's death, Why?, he deserves a better death similar to Pete's. The writers should have thought of some "Be Killed" scene so TG can rise into power or put him into a situation that would force him to step down, but then I guess TG can't afford to be either blackmailed or backstabbed by his former lieutenant. Still, he deserves better.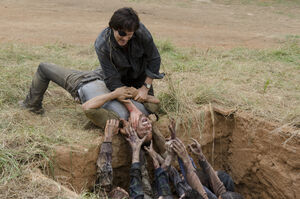 Next Episode: It's the Mid-Season Finale next week and the next writer shouldn't disappoint us because THE FUTURE OF THE ENTIRE SERIES RESTS IN WHAT HAPPENS THIS EPISODE. Yeah sure, there is a fifth season but this part of The Walking Dead is what made it The Walking Dead, Screwing this up is unforgivable. I also wanna see this.
In Memoriam
Today, We honor those who died: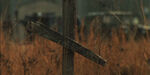 Red-Shirt or not, Thank You for being a part of The Walking Dead.
Critics' Grade
"Dead Weight"
| Story | Acting | Total |
| --- | --- | --- |
| 4.5 | 4 | 8.5 |
Death List
The Following are Survivors and Red-Shirts who I want to die next episode:
Daryl Dixon
Beth Greene
Judith Grimes
Hershel Greene
Sasha
Some Suicidal Red-Shirts (Rick's Group)
Julio
Brian Heriot / Philip Blake / The Governor
Alisha
Most of the Red-Shirts (Brian's Group)
Announcement
Stay tune for WalkerMaimer's special announcement within this week.
Closing
I am Closing this blog with unending gratitude in read my review "Dead Weight" Please do not hesitate to leave your comments down below, You have my assurance that it will be respected, This is WalkerMaimer telling you to have a Great Day and Stay Cool.
---
---
Community content is available under
CC-BY-SA
unless otherwise noted.