10-02-13 (Philippine Time)
Blog Entry #12
CODE: W.Maimer - (BE12)
WalkerMaimer's Review on The Webisodes
- WalkerMaimer, MMf, RWr
From the Maimer
Salutations,
Hey Guys, I am here to give you another review but this time it's about The Walking Dead: Webisodes.
I know that some of you are already rolling your eyes after you've seen the predeceasing blogs about the same thing. But if we look at it both ways our perspectives or thoughts on the Webisodes are slightly different.
Before I start here are the things all of you should keep in mind:
I am sometimes NOT grammatically correct so pardon me.
Off-Topic is allowed
No violence within the blog (Offenders shall be reported to the Admins).
Do not hesitate to express your thoughts, let it all out.
Enjoy! =D
Introduction
I do not like the The Walking Dead (TV Series)......But I love it. Seeing something new that is well....something new makes me crave for more. I mean, living in a country which Television shows airs Five times a week is just so annoying because they sometimes give spoilers on trailers blended with bad acting and poor or repetitive story lines. That's why I prefer watching shows from another country.
Anyways, Aside from loving The TV Show I also found my liking on the Webisode Series. The moment I saw the very first salvo of the series (though the acting was bad) I found it extremely cool especially with how it was made related with the main show.
Now without further adieu WalkerMaimer's Review on The Walking Dead Webisodes starts now.
Torn Apart
The very first batch of the Webisodes was aired October 3, 2011. It was released before the Premiere of Season 2 It consists of 6 episodes under the direction of the great Greg Nicotero. The story revolves around Hannah and her family during the onset of the outbreak.
Review
I must say the acting is bad. There are portions of Torn Apart that made you feel that you are in a puppet show, where I would prefer cutting my fingernails than watch.
The Children's existence in the Series was a wonder of stupidity. They are the Webisodes Red-Shirts they ask where your dog is, They hide in a closet instead of running up stairs or kill their step-mother, and run like they were playing tag in an apocalyptic world. Hopefully, they did not survive during their kiddy adventures towards the Extraction point.
Andrew should have been the main focus of the show other than Hannah and not the Children (Screw them). There is something in this Character that would burst anytime and his scene with Mike Palmer, though kind of short, was the best.
The Tie-in is the best thing that ever happened in Torn Apart and it turns out that the main protagonist, Hannah, is actually "Bicycle Girl" who was seen in both the Comics and the main show. This is what made the Webisodes famous it gives us another view of the Apocalyptic world other than centralizing it's focus on Rick and the gang.
Critic's Grade
The entire story tied in the main show is somehow amazing. There are times that certain parts does not belong (shooting your dog) in there. The Acting was terrible, I should be giving them 0 for it but let's give them 0.5 for the effort.
Torn Apart
| Story | Acting | Total |
| --- | --- | --- |
| 2.5 | 0.5 | 3 |
What Torn Apart thought us: Two things: Self-Sacrifice to those people you cared the most, and DO NOT HIDE YOUR UNDEAD WIFE UNDER THE RUG.
Cold Storage
This one aired October 1st before Season 3 came to invade the airwaves. It revolves around Chase as he becomes pinned down by an adversary with a survivor and his determination to find his sister. It consisted of 4 episodes.
Review
I love how the surveillance cameras are used for this one, especially the shots in the end as walkers gets inside the Storage Facility, it gives you that "Diary of the Dead" vibe as well. The story is not that bad same as the acting.
I do admire B.J's collection of Pornographic materials and Kelly being kept as his sex slave. Cruel but this is The Walking Dead Unrealistic Lunatics exists.
Though I find Harris a wasted character, you know seeing him with his Machete and goes '"Clickity Clang Clang woosh" on Walkers would be amazing. Speaking of Machete I find it disappointing not to see Kelly decapitate B.J on screen. I mean, Michonne did it on Crowley.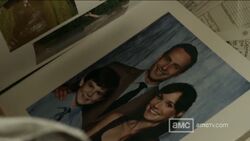 The Tie-in for this one is peculiarly coincidental. Sure, Rick owned a Storage cell for his "Things" and "Stuff" but for it to be discovered by Chase and ending up wearing the owner's clothes made him looked like Rick's long lost brother and finding a bunch of photos should not be the basis that "Rick was here". Yet it's still cool to know that Chase's sister is in Cynthiana in the state of Kentucky, Rick's hometown in the comics.
Critic's Grade
I like this Webisodes for a reason that it stepped up much to what I am expecting than Torn Apart. I have to be honest that I got disappointed with the first one but after Watching this my hopes for the entire Webisodes was restored. However, there are parts that is kind of a bit lacking or slow but other than that a score of 4 would suffice.
Cold Storage
| Story | Acting | Total |
| --- | --- | --- |
| 2.5 | 1.5 | 4 |
What Cold Storage taught us: I've been biting my tongue for this word to come out but i think Determination does it. Determination to face the risks ahead even though the future is uncertain and DON'T CLOSE YOUR ZIPPER IN FRONT OF THE CAM (I'M LOOKING AT YOU B.J).
The Oath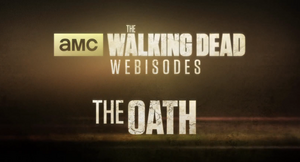 This one came out last night October 1st, 12 Days before Season 4. The story revolves around Karina, and Paul. The episode is about choices and consisted three episodes.
Review
The Best of the Webisodes so far. Yes, the story was kind of creepy especially in the end. I like the opening scene it kinda reminds me of that Andrea - Amy moment in Vatos although cut short, I like it.
The story is strange but nicely done it tackles on to how far we could go in desperate times and the choices we make as we push through. And the acting blends with it well.
The scenes of Karina and Gale was well executed I felt the drama every word spoken has meaning and that melted smile on Paul's face while Karina was dying is simply heart touching.
If I could only Criticize it's gotta be this: What's with the Off-Screen thing ?. Sure, I can forgive them with the decapitation of B.J in Cold Storage but the Off-Screen of what really happened to Gale simply does not give closure ( I would not Invest the remaining 110 I.Q points that I have for mind bending and open ending shit).
Regarding on Gale and Rick. In a medical perspective it's a miracle or rather has a slim chance for a person to survive 1-2 months without life support, I'm not saying that Gale was looking after Rick but judging on how Rick woke up there are no traces of medical activity. Plus, We all know in the episode "Wildfire" that the Military is sweeping and ransacking the hospital. I'm sure at the time Gale "somehow" knew that no one survived.
And one last thing I don't know if I am getting blind but in some angles does:
Gale looks like Gale Anne Hurd
Paul looks like Brad Pitt in WWZ
Karina looks like Hannah aka Bicycle Girl
( I know this is weird and a useless part of my Review but I can't resist not to share it )
The Tie-in is not as good as Torn Apart but better than Cold Storage. I really like how the producers hauled the same Hyundai vehicle for the Webisodes. Now we know who the owner was. But the highlight of it was the "DON'T OPEN DEAD INSIDE" thing that Paul made in the same hospital, where Rick stayed during his Coma. Though I'm not gonna say something about Karina as a Walker Pet of Paul as what American News Anchors like to say during their election night: TOO EARLY TO CALL.
Critic's Grade
Good Story line, and Best acting. Nothing more to say 4.5 is my grade.
The Oath
| Story | Acting | Total |
| --- | --- | --- |
| 2.5 | 2 | 4.5 |
What The Oath taught us: Choices should be chosen wisely and WHEN THE MAP SAYS OVER RUN DON'T COME.
Webisode Rankings
As the show progress it keeps getting better and better. Hopefully this coming spin-off show on the works would be the Survivors of each Webisodes ( kill the kids on Episode one please ).
Here are your Webisodes based on the Critic's Grade:
1.) The Oath - 4.5
2.) Cold Storage - 4
3.) Torn Apart - 3
Closing
I am closing this Blog with unending Gratitude for reading my Long Review and Please do not hesitate to leave your comments, and opinions regarding this review, all of these are assured to be respected.
This is WalkerMaimer telling you have a Great Day!!!
---
---
Community content is available under
CC-BY-SA
unless otherwise noted.