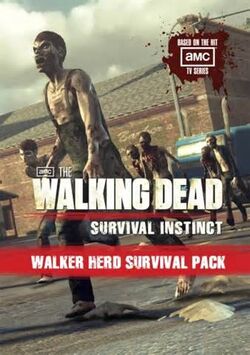 The Walker Herd Survival Pack DLC is a DLC currently available to all on the Xbox 360 Marketplace and Steam for The Walking Dead: Survival Instinct. This DLC includes both the DLC's " Walker Execution Pack" and the " Herd Mode"; adding both a new survival game mode, where the player must fight limitless waves of walkers, and five new melee weapons. The DLC was released to the public on April 16th, 2013 and is available for purchase on the Xbox Live Marketplace for 400 Microsoft Points and on Steam for $4.99/EURO 4.65.
Featured Melee Weapons
Survival Knife
Sawtoothed Machete
Kukri
Reinforced Hatchet
Advanced Machete
Featured Game Mode
In this DLC, the player is put into a herd survival game mode. The player will begin in Lemon Hill, Georgia with a Survival Knife, two random firearms and a melee weapon. Each round, more walkers will spawn and more locations are unlocked as the player reaches higher waves. Each new location includes more firearms, ammunition, and melee weapons.
Firearms and Melee Weapons
This is a list of available weapons that can be unlocked in the Herd game mode.
Revolver
Hi-Power Pistol
Semi-Auto Pistol
Pump Action Shotgun
Semi-Auto Shotgun
Semi-Auto Rifle
Bolt Action Rifle
Assault Rifle
Hunting Knife
Hammer
Lead Pipe
Baseball Bat
Machete
Axe
Fire Axe
Sledge Hammer
Crossbow
Locations
Spawn Area (Unlocked at Wave 1)
Shop (Unlocked at Wave 2)
Gas Station (Unlocked At Wave 4)
Graveyard (Unlocked At Wave 7)
Church (Unlocked At Wave 10)
Trivia
The Machete happens to already be available in the game even without the DLC installed. This is because the Original Machete has a different appearance and stats than its DLC counterpart.
The Survival Knife has a similar appearance to the Hunting Knife.
On the second image of the DLC, the Sawtoothed Machete happens to just be named the Machete. (This happens to be an error.)
Lemon Hill in herd mode has been slightly modified than its single player counterpart.
This DLC is a combination of two previously released DLC's, the "Walker Execution Pack" and the "Herd Mode".
Community content is available under
CC-BY-SA
unless otherwise noted.